I have been approached by many people who are trying to get pregnant or are concerned about having another difficult pregnancy or are worried about the health of their future baby. A lot of people think the time to get healthy is when you get pregnant. People change their diets, stop smoking, stop drinking. I applaud people when they see the importance of stopping these bad habits. However, what most don't realize is that long before you get pregnant, how you live your life affects the health of your egg and sperm which has long-lasting effects on the health of your baby. And by the time you miss that first period or see a positive pregnancy test, your baby has already started forming and is further affected by your lifestyle choices. If I could give one piece of advice to my young couples thinking about getting pregnant it would be to go full-force for one year at growing and fertilizing your roots of health before getting pregnant. Maximizing the amount of nutrient-dense foods you eat, practicing good sleep hygiene, exercising, learning to handle stress are some of those roots. I would also encourage them to get a functional medicine evaluation, so they can see how optimized are their body functions (hormonal communication, gut health, energy production, detoxification, etc).
As much effort and care you put into setting up your baby's nursery where your baby will eat, sleep, and grow, you should be putting infinitely more effort into caring for the body in which your baby will be doing some of the most important developing.
For the next several months, Fridays will be deemed "TGIFF" or "Thank God it's Fertile Friday"! Okay, actually we'll keep it short…."Fertile Fridays" is where I hope to share some wisdom on how to prep for that special time in your life…for your health and your future baby's health.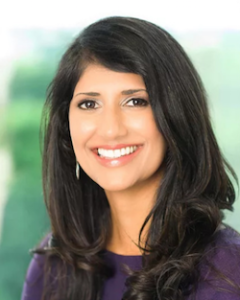 DR. JYOTI MATHEWS, M.D.
Medical Disclaimer: The information on this site is not intended or implied to be a substitute for professional medical advice, diagnosis or treatment. All content, including text, graphics, images and information, contained on or available through this web site is for general information purposes only.